Dewalt Mobile Table Saw Stand
I've been setting up a small garage workshop and one of the first things I built is a compact mobile table saw stand. After posting it on social media I've had a few requests for the plans. I mostly made it up as I went so I don't have detailed plans but I'll do my best to provide a bit more information for anyone looking to build there own.
It's worth noting that these dimensions are for the smaller Dewalt 8¼" table saw (model DWE7485) and not the full-size 10" model. I'm sure the dimensions can be adapted to any portable table saw but make sure you double check your saw will fit and adapt the height as needed.
Materials
I used quarter sheets of ¾" plywood for the build as they were easier to transport to the shop in the car. This means most of the dimensions are based on a 24" width.
1 Full sheet ¾" plywood
1 Quarter sheet ½" plywood
4 Heavy duty casters (Amazon)
22" Drawer slides
20" Heavy duty folding shelf brackets (Amazon)
Drawer handle
Dimensions
These are what I used but you may want to adjust the height depending on which casters you use and if you are trying to match the height of any other work surfaces. The drawer dimensions might also need adjusted based on your drawer slides.
Cabinet
Top, bottom, and outfeed table: 24" x 24"
Back panel: 30 ¾" x 24"
Sides 17" x 24"
Shelf: 22 ½" x 24"
Drawer
Sides: 22" x 6"
Front and back: 5" x 20 ⅛"
Drawer face: 6 ¾" x 22 ⅜"
Drawer bottom: 22" x 20¾" (½" Plywood)
Assembly
The cabinet is mostly just assebled with glue and countersunk screws. The shelf in the middle and the drawer use dowels but you could also screw these together. Pocket holes would be another easy way to attach everything if you have a pocket hole jig.
Drawer assembly: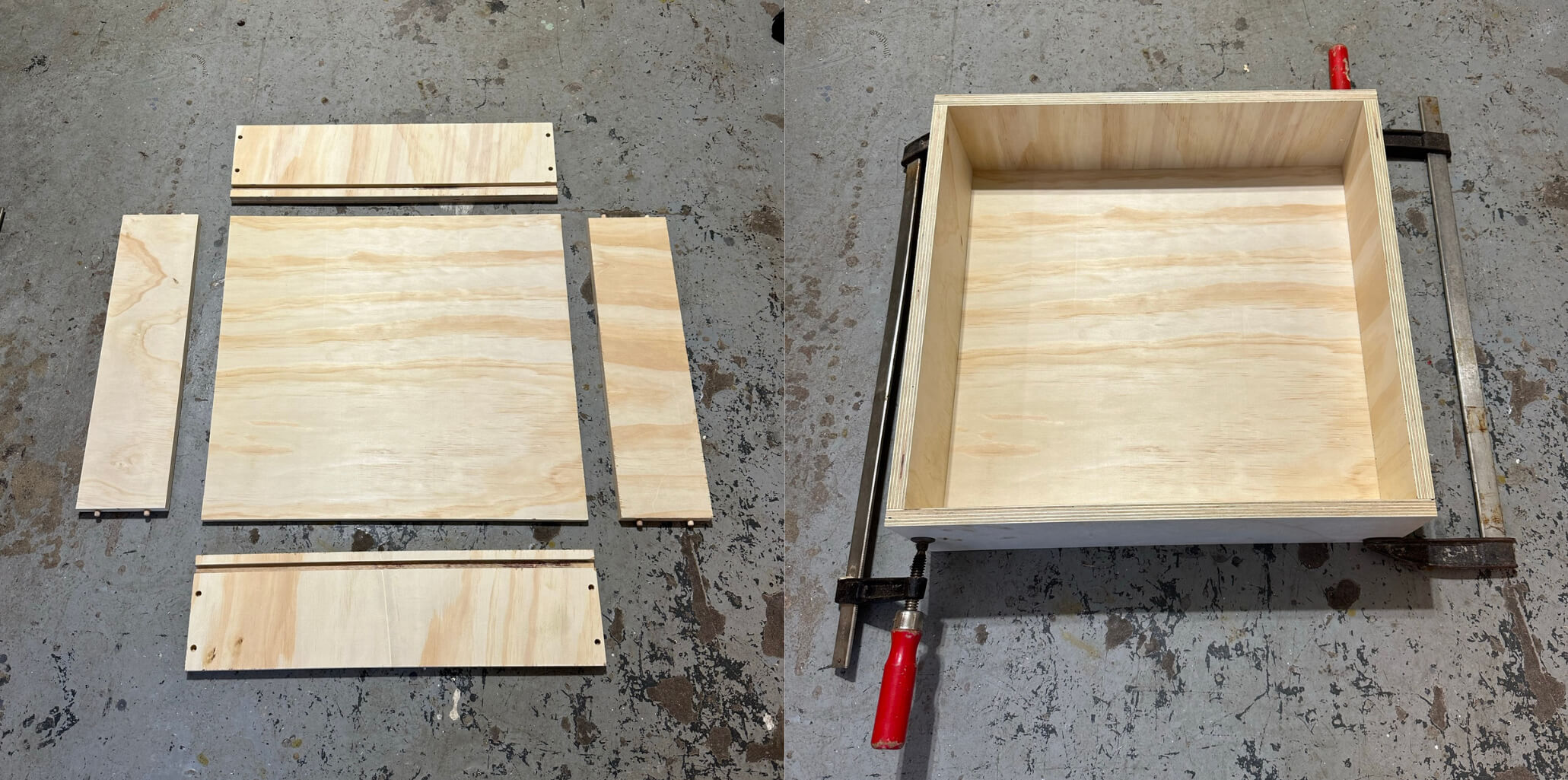 See it in action here:
Other Posts
Tools I Use
Making Planters Out of 3D Printed Molds
IKEA Shelf Monitor Stand